Since we began running last year, the PugRunner family has accumulated quite a bit of hardware. While I know medals aren't important to some runners, they are incredibly meaningful to me. Each has a story and many memories behind it, and I love seeing them hanging on display.
The only problem was that we didn't have anywhere to really hang them, or our collection of race day bibs. I've been saving those methodically, divided into piles for each of us, marked with the name of the race, date and time, while the medals were hanging on the supports of a bookshelf in our bedroom (little man's were pinned to the bulletin board in his room).
I went so far as to pick up some supplies at the craft store to make my own medal racks: unfinished wood boards, sawtooth picture hangers, and a variety of decorative hooks and paint, but inspiration never really struck. In my head, I kind of knew what I wanted, but for some reason, I couldn't visualize how to make it happen.
And so everything sat, untouched, in the coat closet.
A few weeks ago, I had had enough. There were some decorative things I started doing in the house, and I decided it was time to figure out the medal situation. Off to Etsy I went.
I wasn't entirely sure what I was looking for, so I just started poking around and in minutes, this popped out at me from York Sign Shop.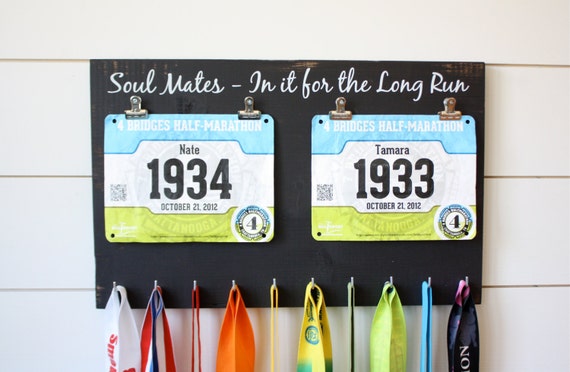 I had no need to look further. I absolutely loved the idea of having one hanger for me and Mr PugRunner, and so I ordered this, as shown, with an extra row of hooks and a beveled edge, and then sat back to wait for the mail.
Within a week, it arrived, perfectly packed and absolutely exactly as I envisioned.  I was so happy to start filling it up. I ordered some of my favorite running photos, picked up a few gallery frames, and set to work on a huge wall in our loft.
I created a "running" subway art piece to frame,
and surrounded the medal holder with some of our framed photographs.
As you can see, we've pretty much filled it up (Mr PugRunner has one more hook on his side, and I have doubled up on a few hooks on my side), so I think I will have to go ahead and order us each one of these smaller medal racks to hang under the frames on either side. They can be customized with our names or maybe a powerful saying for each of us. I will think on it.
Little man still likes his medals in his room where he can see them.
I am so in love with how this has turned out so far. And I can't wait to continue adding to it!
Do you ever go on crazy redecorating jags? In the last month, I can't tell you how many wall frames I have bought to create new galleries and collages. Tell me I'm not alone.
If you keep your race bibs, do you label them with info from each race, or just leave them alone?