It's Wednesday and you know what that means! We're linking up with Deb Runs for the Wednesday Word. You can be part of the action, by checking out her page and linking up, too!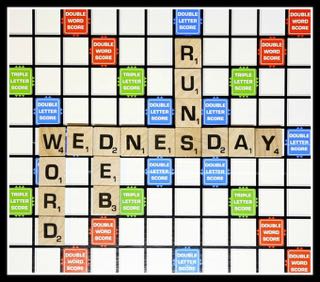 This week's word is
Ah, energy. It's almost like the mythical unicorn. Elusive, impetuous, something fleeting.
As I'm getting older, I'm learning a few things about myself. Primarily, that atttiude is almost everything, and you can "fake it til you make it" in a lot of situations. For me, being energetic is one of them.
I don't love rolling out of bed before the sun. However, it's rare that I don't have a pretty large to-do list, so if I'm not up and moving. things don't get done. I've managed to reach a point where I am (mostly) bright-eyed and bushy-tailed before that first dose of caffeine.
I prefer to be awake and cheerful when little man wakes up. I think setting an energetic tone in the morning can help start everyone on the right foot: for us, things just seem more manageable if the perspective is on point.
When I'm exuding energetic vibes, I feel more capable of handling hiccups and problems along the way. I also find it easier to be more patient and friendly with the people around me. It makes me want to take on the world, and the more I accomplish, the more I want to do.
Sustaining that energetic feeling can be a bit of a balancing act. Working out helps. No matter how low my mood or how weary I might be feeling, a good run, ride or HIIT session usually perks me right back up. The more consistently I am able to continue physical activity, the more energetic I continue to feel. It's kind of like a car battery, recharging from itself as the day goes on. Additionally, proper nutrition, surrounding myself with positive people and getting enough sleep help keep the good cycle going. This week, I've allowed my bedtime to slip later and later, and I've definitely felt the effects in the mornings.
I hope that by keeping my energetic feeling high this week, I can conquer the addition of running back into my schedule, as well as all the other great opportunities that have been coming my way.
How do you keep yourself energetic?