Another Wednesday, another Wednesday Word! We will be linking up with Deb Runs  for the fun and you can be part of the action, by checking out her page and linking up, too!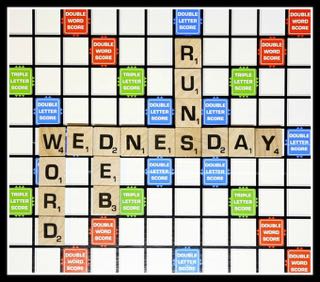 The word of the week is…
This word actually comes at a pretty opportune time.
You see, I am working (very hard) at being fearless.
I try to be confident in my life, but I do have fears. Clowns. Zombies. Confrontation. Talking to people on the phone. Chupacabras.
Failure.
As I get older, and hopefully wiser, I am realizing that existing with a fear of failure is no way to live. We all fail. It's how we learn and how we grow. Messing up is part of what makes us human and it's what we do with those failures that defines us.
So I've been trying to release the fears I have and face them head-on.
Sometimes, it's hard to measure the progress of that. However, yesterday, I got a physical sign that my attempts at fearlessness are paying off:
For over a year, I have been trying to conquer the Crow pose.  Sadly, it always seemed out of my reach. Part of the problem was my lack of upper body strength (after all, you have to have strong arms to support your body), but the bigger part was fear. I was terrified. Of failing. Of falling on my face. Of making a huge fool of myself.
A few weeks ago, I decided it didn't matter. If I fell, then I fell. If I made a fool of myself or looked ridiculous, I would laugh with anyone who laughed at me. If I failed, then I would just try again.
I got stronger and more determined and less afraid and then yesterday? Bam.
Now that I know I can be fearless, where will it lead?
How do you try to overcome your fears to accomplish your goals?