It's time for the Wednesday Word! We will be linking up with Deb Runs  for the fun and you can be part of the action, by checking out her page and linking up, too!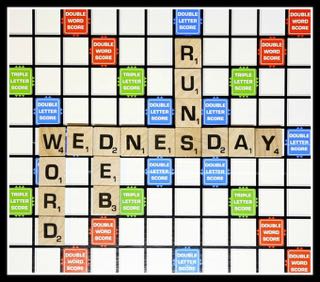 The word of the week is…
Oh, how I love this word!
I believe the ability (and willingness) to encourage is truly one of the best qualities a person can possess. To be able to reach out to another human being,  in some way and say "I believe in you; you can do this" is one of the greatest gifts we can give.
Even better, it works both ways. To be on the receiving end of genuine encouragement is absolutely amazing. To know that someone else is out there, believing in you, supporting you and invested in the outcome of your endeavors can be an incredible motivator.
In my (admittedly limited) experience, encouragement is the backbone of the fitness and running community. For years, I shied away from group classes, or any activity where anyone would see me, convinced that people would look down on me for being too heavy or out of shape or weak. I was terrified of being judged or ridiculed or shamed. It took a long time for me to realize that everyone has to start somewhere, and there was no reason to feel badly about that.
When I finally got over myself and put myself out there, I was astounded by the encouragement I received. from family, from friends, from strangers passing on the street: there was an overwhelming message of "You will not fail. You can do this. You will do this and we will be here with you."
Because of that, I went from a girl who could barely walk a mile in high school, who never allowed herself to try something new for fear of failing, who would sit on the sidelines and live vicariously through others who were out there chasing down their dreams, to a woman who has completed a marathon,
zip lined over an alligator tank,
SUP'd in the Atlantic,
and is currently learning the ropes for a triathlon and counting down the days until our 10 year anniversary trip so we can snorkel with stingrays and maybe kayak through some uncharted waters.
I'm incredibly proud to report that through the encouragement of those around me, I am forever changed.
And now, even more than hitting my own PRs or overcoming my own challenges, I love to spread the same message that has been consistently shared with me. I don't want anyone to feel the self-doubts that plagued me and prevented me from trying new and difficult things. I want to encourage the people I care about (and even those I don't know – that stranger on these street, for example) that it doesn't matter what anyone says: they can do the things they never believed were possible. Maybe it's starting out with running or cycling, or trying a new yoga pose, or signing up for a studio class, or maybe it's writing a book or starting a new business venture. Whatever it is, anything is possible.
And someone who cares about you has got your back.
How do you encourage those around you?
What are some things that other people have encouraged you to do?