Today, we are linking up with Deb Runs for the  Wednesday Word. You can be part of the action, by checking out her page and linking up, too!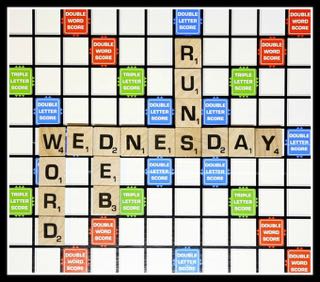 The word of the week is…
People say that I am usually a pretty level and reasonable person. Pragmatic might be a step too far, but I confess that I do attempt to carefully weigh my decisions, consider the different outcomes and consequences and proceed along the most logical path.
I mean, I'm practically a Vulcan (Nerd joke. Move along.)
But seriously. Sometimes I throw caution to the wind and go with the flow, because a little spontaneity keeps us from becoming stale.
It's a bit timely that this word popped up on Deb's list this week. I have had to do a lot of soul-searching the last few weeks, regarding my running and where I'm at with it.
Coming back from my injury and subsequent break has been harder than I would have thought.  Coming back from injury and break in the devil's armpit of summer (we are talking temperatures in the 90s, close to 100% humidity and heat indices of over 100, even at o'dark thirty) has been absolutely demoralizing. I had hoped that with the rest, cross-training and careful attention to strengthening, things might have been just a little less awful.
I don't know if it's me. If my body is done. If this is the end of the PR and if my focus has to change to just crossing the finish line versus pushing harder to get there. There have been plenty of times where I have been more interested in the experience of the race or run than I have with the time on the clock, and I will learn to be ok if that's my future, but I would like it to be on my terms, and not because my healing time led to it.
That being said, I tried to be pragmatic by planning a very slow and methodical comeback. I thought it would be the best way to ease my body back into the sport. And let's be honest, I am only about three months back into running at all, and I am already (slowly) churning out 7-8 mile long runs.
The pragmatic plan?
Listen to my body. It's hot as Hades out there and it's way too easy to get dehydrated, overheated or suffer from heat stroke or countless other heat-related afflictions. My pride isn't worth my health.
Mix up my runs. Since coming back, I haven't worried too much about speed work, tempo runs, easy runs or anything other than my two shorter runs and a long run. The combination of paces and goals creates better runners, so I need to be sure to build those all in to my workouts.
Distance before speed. This is Basic Runner 101. I have the Rock 'n' Roll Philadelphia Half Marathon in two months. I need to be able to cover 13.1 miles of distance by that time. I have to remind myself that, while speed work is important, the primary goal is those 13.1 miles.  I can worry about my pace in time for the Space Coast Half in November.
Keep my eye on the prize: my goal in all of this has been staying fit and active, enjoying time with like-minded friends, taking on new challenges, and visiting new places. At no point did I ever delude myself that I was going to win anything or break any records (ok, maybe I'll break the one for sweatiest hot mess), and at this point, I think that's the right mindset to get me through.
Worry about myself. I've been getting into my head again, comparing myself against others, and it's so bad. I'm starting to find myself not wanting to go run with my group, because I'm embarrassed by where I'm at, but that's just my anxiety at work. The only one judging me is me, and the sooner I kick those feelings to the curb, the more I can focus on what I'm doing out on the road.
And I might buy new shoes. It's about time, so maybe I'll be a wee bit impulsive and treat myself to help make me feel better. Balance, right?
Are you more pragmatic or more impulsive?