On Wednesdays, we (really, really try to) link up with Deb Runs for the  Wednesday Word. You can be part of the action, by checking out her page and linking up, too!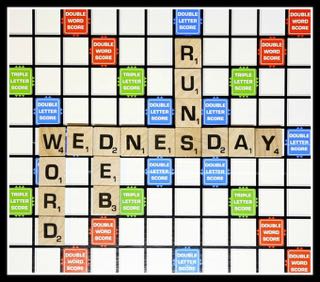 I usually don't post twice in one day, but I couldn't miss out on this week's choice. It's just too meaningful.
The word of the week is…
So.
A few weeks ago, Mr PugRunner and I had a "conversation" regarding my training. I have definitely increased the amount of my activity over the last few months, and he was expressing concern that maybe I'm pushing too hard. I disagreed.
So he asked me a pretty pointed question: What do you want to accomplish from this?
It was something I really hadn't thought about in a while, but it also gave me the chance to put my goals into words. To speak them out loud and give them weight.
The things I want to accomplish through my fitness and activity aren't particularly overwhelming. I'm pretty well set on never running another marathon (maybe, years from now, if the opportunity for New York or Chicago happens to fall into my lap), and I have absolutely no motivation to try an ultra.
But there are things still out there I haven't yet achieved, things that make the extra workouts and more concentrated training plans worthwhile.
I want to be stronger – When I injured my hip flexor this year, it made me realize just how much I had been neglecting my cross training. With the running and race goals I have set for myself, it's really only a matter of time before it happens again (and again and again). By combining my running with weights and spin and yoga, I am building the muscles that haven't been getting much or any love, which should help in the prevention of injury (obviously, nothing is guaranteed, but the logic is sound).
I want to do a handstand. And a real pushup. – My power is, and has always been, in my legs. To this day, no matter how much I focus on my upper body, I can't seem to accomplish either of these feats. It's a thorn in my side, and one day, I would love to be able to flip into one of the cool inversions I see others practice in yoga class, or drop and give 20 without dropping to my knees.
It's time for that triathlon – My eye is on the 2017 season, and the more disciplines I focus on now, the easier that training will come. I've made a lot of excuses and back burnered this quite a bit, but I'm feeling more at ease with the idea of the open water swim and I think that I will be ok.
I want to work on my body – On this blog, I maintain that my fitness journey really doesn't have much to do with vanity or appearance. And for the most part, I mean that quite sincerely. I own the good parts and the bad and I am proud of and grateful for that with which I was born. There are things that will never be aesthetically fabulous without surgery, and I'm not quite that committed, but it is in within my power to tone and tighten and improve other things, and there's no reason I can't. We have a trip to a tropical paradise coming up in a few months, and I'm willing to push a little harder to look just slightly better in time for that.
The conversation about what I hoped to accomplish was an accomplishment of its own. While Mr PugRunner doesn't feel the same motivations or similar goals, we are now on the same page for why I'm choosing to train the way I have been.
What's something you are hoping to one day accomplish?