On Wednesdays, we (really, really try to) link up with Deb Runs for the  Wednesday Word. You can be part of the action, by checking out her page and linking up, too!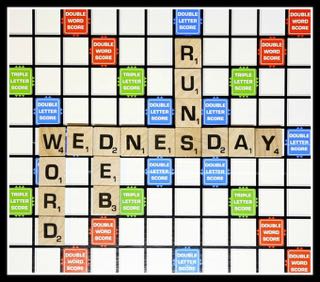 Today's word is…
Yes.
That is a very hostile mosquito.
You see, while most of the country is enjoying the changing color of fall leaves, we have been plagued with these blood-sucking nuisances.
#ThanksMatthew.
Mosquitos are just part of Florida life, but that doesn't make it any easier to deal with them. Not only are mosquito bites itchy and uncomfortable, but they spread all kinds of unpleasant diseases, including, most recently, the Zika virus.
Our region sprays relentlessly, with both ground and aerial preventatives (the latter of which is met with a lot of resistance), but the standing water (from the hurricane flooding) and warm temperatures serve as a breeding ground for these gross insects, and options seem pretty limited.
As a primarily outdoor runner, this presents a bit of a problem. This week, I have been eaten alive, despite going out early in the morning, staying away from water, and using some buy spray.
There are few things as miserable as mosquito bites under the laces of your running shoes. Ugh.
Things have improved since the big spraying, but I am still sporting some pretty ugly (and itchy) welts that I am trying really hard not to scratch.
Unfortunately, there isn't much help for it but to ride out the season. Hopefully, we will get a consistent cold snap that will take care of these nuisances once and for all. It would be nice to get to enjoy the outside again.
What kind of nuisances plague your daily life?