While I am waiting on some photos from Savannah, I am going to get back to joining Deb Runs for the Wednesday Word. It's actually the perfect time to add this back into my blogging schedule, because Deb is celebrating one whole year of Wednesday Words! Happy Anniversary, Deb!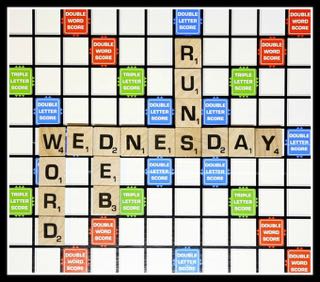 This week's word is
I wouldn't ever presume to define myself as "brave." I'm just a very average, very unexceptional, 30-something woman who does her best to get by. Every morning, I get out of bed and try to be the best wife, mother and human being I can. There's nothing brave about any of that. Sometimes, I take some risks and chances, do something a little more adventurous than usual, but that's the extent of it.
However, sometimes, the verb of the word applies. And that's where my April goals are going to enter the conversation. After having to drop down to the 5K in Savannah, I realize that I am going to have to brave the reality of how my injury affected my training and mental wellness, and get back to work.
It's a pretty daunting proposition. In just over a year, I have gone from running 26.2 miles to square one. I've been having a hard time seeing this as anything but failure, but the instructor at Sunday's Yoga on the Square got through to me somehow. As she was guiding us through our flow, she also challenged us in a way that resonated deeply within me. When she encouraged to try our crow pose, she told us to just get comfortable with the idea that we might fall on our faces. And you know what? I got my toes off the ground for a few seconds! Later, she asked us to hold dolphin pose, which is actually really challenging. When I dropped, she said to get back up. Why? "Because you can." And she was right. It was hard and it hurt, but I could, so I did.
My endurance and stamina are shot. My confidence has hit the road. While I've always had some nerves or light anxiety before a long run or race, I never used to doubt the fact that I would cross the finish line. It just wasn't even an option. Over the last month, that has changed, and now I am terrified to even get out there for fear I won't be able to complete the distance. It's an awful feeling.
Over the last few days, I've sat down with a calendar and charted a new course. What I need most is to rebuild what I've lost, and while I'm doing it, I might as well develop a stronger base.
The running will come, but for now, I have to brave new territory. For the next two weeks, I am going to forget about running. I need to get it out of my head entirely. I am going to be diligent with my body circuit and yoga, and I found a training plan to safely build my cycling miles. And then I am going to go ahead and re-enter Couch to 5K. It served me well years ago, and I think it will clear my head and allow me to work on my form and maybe help me break some bad habits and get out of my comfort zones.
I have no idea what's going to happen. I have a "goal race," if you will: it will be the fourth anniversary of my very first 5K, and if all goes according to plan, I think I will be in the mindset to make a nice comeback. There are almost two months to prepare, so I'll be able to take my time.
So there you have it. How I plan to brave the weeks ahead and get back into the physical and mental shape to continue with the running that I love.
What is something you are having to brave these days?